Our play room has 4 tables for building.
Play Rates are per table per hour, and each table can seat a maximum of 4 persons.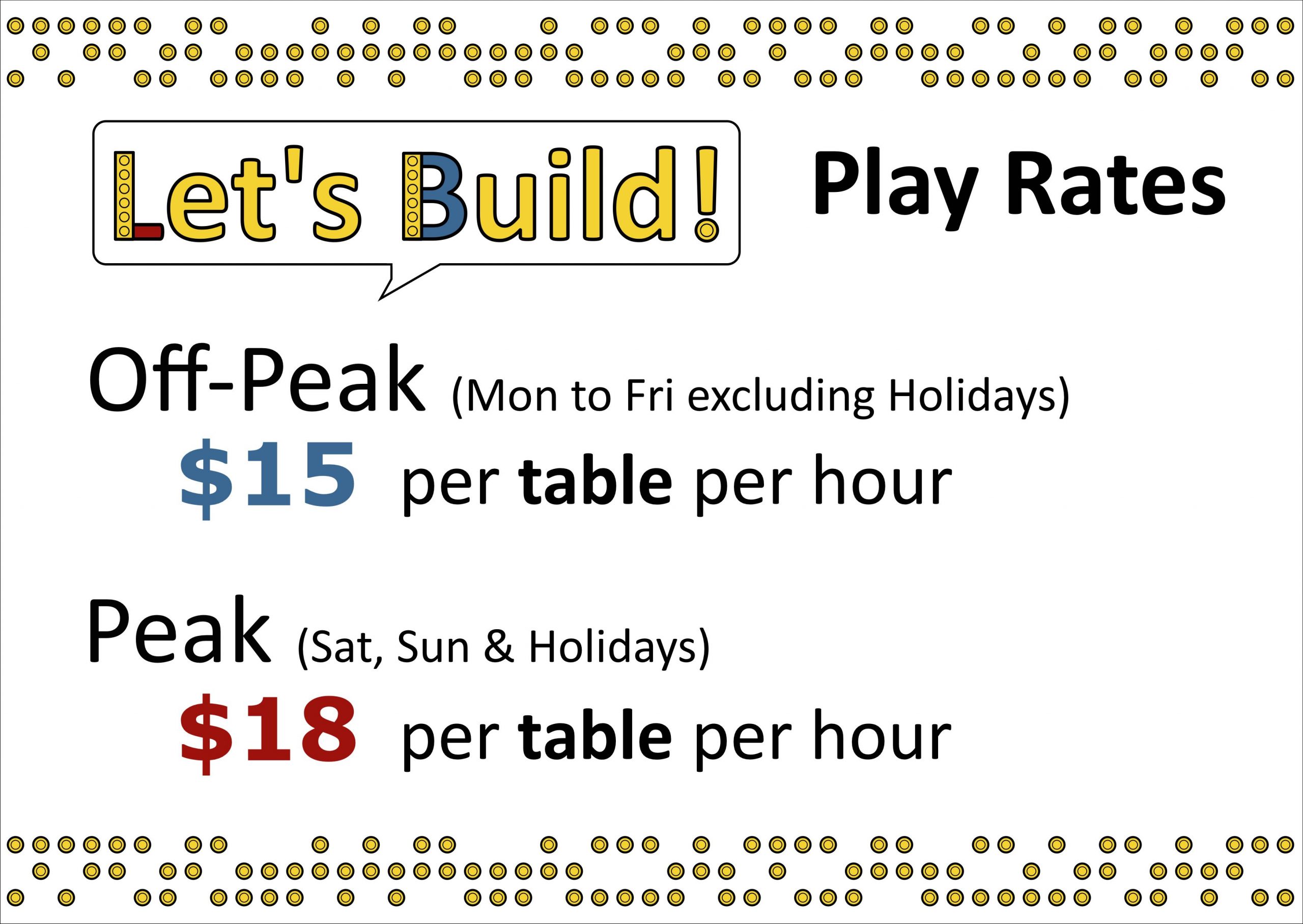 HOLIDAYS include government-declared public holidays (PH), eve of public holidays and special school holidays (SSH). Kindly refer to the following list of peak days in addition to usual Saturdays and Sundays.
1 January (Fri) New Year's Day 2021 PH (CLOSED)
11 February (Thu) Eve of Chinese New Year
12 February (Fri) Chinese New Year PH (CLOSED)
13 February (Sat) Chinese New Year PH (CLOSED)
14 February (Sun) Chinese New Year
15 February (Mon) Chinese New Year SSH
1 April (Thu) Eve of Good Friday
2 April (Fri) Good Friday PH
30 April (Fri) Eve of Labour Day
3 May (Mon) Labour Day SSH
12 May (Wed) Eve of Hari Raya Puasa
13 May (Thu) Hari Raya Puasa PH (CLOSED)
25 May (Tue) Eve of Vesak Day
26 May (Wed) Vesak Day PH
5 July (Mon) Youth Day SSH
19 July (Mon) Eve of Hari Raya Haji
20 July (Tue) Hari Raya Haji PH
9 August (Mon) National Day PH
10 August (Tue) Day after National Day SSH
3 September (Fri) Teachers' Day SSH
8 October (Fri) Children's Day SSH
3 November (Wed) Eve of Deepavali
4 November (Thu) Deepavali PH
24 December (Fri) Eve of Christmas Day